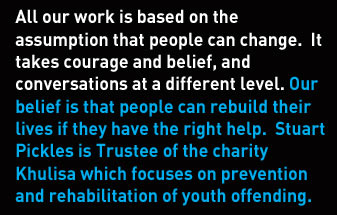 SOCIAL CONTRIBUTION
Khulisa http://www.khulisa.co.uk  is a charity with origins in the townships of South Africa, where 15 for years it has worked with the rehabilitation of offenders and the creation of more positive community opportunities to encourage youngsters to take a path away from crime and violence.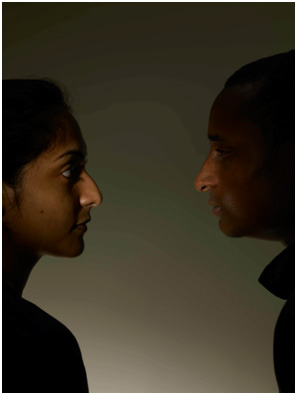 This has been so successful in South Africa, and the results are so clearly measurable, that Khulisa was established in the UK in 2009 in order to take the learnings from programmes in South Africa, and apply them to the youth offender rehabilitation and crime prevention challenges that we face in the UK.  It's a great story of where a developing country like South Africa is at the forefront, and developed nations can learn.
Khulisa's main programme is "Silence the Violence", a form of group therapy for ex-offenders to help them move beyond their difficult experiences, as victims and perpetrators, and develop new mindsets to start their lives afresh.   Khulisa 1:1 mentoring is also a vital resource for ex-offenders when they face the tough challenge of returning to society from prison.   There are many amazing stories of lives that have been successfully turned around and rebuilt.
On a Leaders' Quest to South Africa (http://www.leadersquest.org/), Stuart Pickles experienced the transformation that was being achieved in South Africa, and he has now become Trustee of Khulisa UK.   The work of Aim Higher Leadership is based upon coaching and changing lives in business – but we can learn so much from the successful change that is being accomplished in the lives of people who are facing far more extreme adversity.
We welcome your interest in Khulisa's work.  Here is the link to the Khulisa website where you can learn more and, if you would like to, pledge your support to this amazing charity.