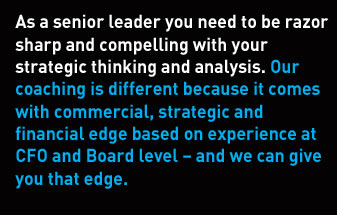 COACHING WITH STRATEGIC & FINANCIAL EDGE
Many leaders build their careers based on sound operational and commercial experience.   They know the business, they can lead and manage people, and they know how develop and sell ideas…. up to a point.
The missing link is very often the Finance perspective – a deeper understanding of the numbers and what they really mean, the devil that's in the detail.   And the ability to stand back and see the more holistic strategic and broader business perspective;  understanding the key business drivers at a corporate financial and strategic level, and the language which is spoken at the top table often feels more like investor relations than operational business management.
These skills, perspectives and language are not difficult to learn – you don't have to be an accountant to understand and master them, but what is often required is some guidance and coaching to work through what gets "lost in translation", and develop more polished and better prepared style to deal with the incisive and what can often feel like very critical analysis from senior stakeholders.   In fact, all they want to know is that the key business drivers, risks and opportunities have been properly understood and assessed.  And very often they have … and sometimes not.
We work with and coach many non-Finance leaders, and when these kinds of issues come up, with our CFO and Board level experience, we are well placed to help them navigate their way through the prickly undergrowth that is the world of Finance, and get their business opportunities and proposals agreed, funded and delivered.
Video
Testimonial
It enabled us to sharpen and clarify our thinking considerably
It enabled us to sharpen and clarify our thinking considerably. As a leader it gave me a reassurance that I had a clear future direction that my team had built together by consensus and were fully signed up to.   I am confident that we a stronger and more cohesive team as a result.
Alison Ward
CEO, Torfaen County Council
Stuart helped me see the bigger picture
Stuart helped me see the bigger picture and understand the key stakeholders.  He specifically coached me on how to present to a Senior Executive audience in an articulate way.  He helped me to stay motivated during the high stress tense moments and maintain my resilience.